News
Futures Evening – 8th March 2022
Back
March 16th 2022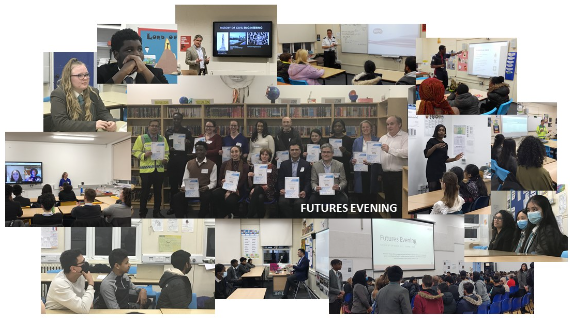 As part of National Careers Week, 18 professionals from a range of industries participated in our annual Futures Evening event by giving short presentations to our students and parents. Students ranged from across all Years 7 to 13 and all were inspired by receiving information and guidance about their potential future career paths. Our presenters talked about what they do, the education route they took, e.g. university, FE college, apprenticeship, etc. and gave advice to the students about how to get into their field, as well as answering any questions the students had.
Research shows that young people who have been in contact with several employers are nearly twice as likely to believe that they had a good idea of the knowledge and skills needed for the job they want to do. Students are encouraged to investigate job profiles from the National Careers Service website, where they can look into skills and qualifications needed to get into jobs, what the work would be like, the average salary they could expect, and what the career prospects are. https://nationalcareers.service.gov.uk/explore-careers
A big thank you to the following presenters who presented at our Futures Evening: Jayne Phelan (Director: Investor Relations, M&G Real Estate), Sarah Phillips (Head of Education and Empowerment, Open City), PC Graeme Halleron (Metropolitan Police), Mr. Uddin (NHS Hospital/St John Ambulance), Miriam Lowe (Queens Mary University), Iyioluwa Adesan (Apprenticeships, NatWest Group), Sehar Azam (Maxim Solicitors), Mo Ahmed (London Fire Brigade), Nina Edy (Digital Communications Officer), Mauricio Alvarez (Risk Engineering Consultant, RiskStop Group), Lis Rideal, Ruby Federman and Precious Appiah (Rideal Associates Ltd), Salman Khalid (Vice President, Northern Trust), Nick Davies (Music Production Manager, Festival Republic), Maciah Smith (Battery Materials Research Scientist, Johnson Matthey), Diana Naftanaila, (Divestment Project Manager, GlaxoSmithKline), and Sean Simmons (Chief Engineer Aerospace and Defence, Expleo).
Feedback and comments from some of the presenters include:
I was pleased to see so many students participating in the event. I hope that by meeting people such as myself and the other guests, it will help students to think about how they might want to shape their future. I was asked a variety of questions which showed that the students were engaged and interested. Jayne Phelan, Director: Investor Relations, Real Estate
I had a wonderful evening speaking to your students about my career. The students are all so lovely and polite. I received impressive questions, which showed great ambition and determination for their future. Sehar Azam, Maxim Solicitors.
I really enjoyed talking with your students - it was particularly lovely to see so many already exploring their future careers from Year 8 to 11. They spoke eloquently and articulately and gave me a hugely positive first impression of The Warren School. Sarah Philips, Head of Education and Empowerment, Open City.
Feedback and comments from some our students include:
I gained a greater understanding of what I want to be and how to pursue my dream job, as well as options for an apprenticeship. Mason, Year 7.
I learnt about banking and how to make money through investing. I am inspired to go into banking as a future career. Arin, Year 8.
I learnt a lot. This experience helped me to figure out what it would be like to work in the medical field and how to assess patients. Through the National Careers website we explored qualifications needed and types of jobs available. Aleksandra, Year 9.
Futures Evening was very useful for my future because it helped me to understand what Aerospace Engineering was all about and what qualifications I need to qualify. It was an enjoyable evening and helped me to learn what it would be like if I chose a similar path. Eduard, Year 10.
Mr A Uddin MBE
Director of Learning Phases