News
COVID-19 variant: Protect yourself and your family
Back
December 8th 2021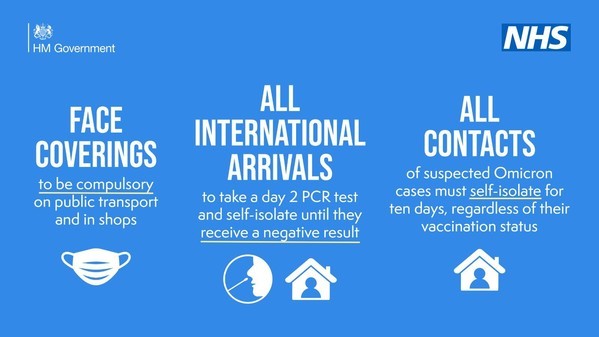 On Sunday 28 November the government announced new measures after cases of the COVID-19 Omicron variant were found in the UK.
As well as these new measures, it is important to continue to get tested and vaccinated against the virus. Testing is still the best way to stop the spread and the vaccine has massively reduced the number of people becoming seriously ill from coronavirus. We continue to work with our health partners to ensure people who live and work locally have access to both testing and vaccinations.
New Covid-19 measures in place are:
From Tuesday 30 November, face coverings will be compulsory in shops, on public transport and in any indoor space where you will be in close proximity to others.
All international arrivals to the UK must take a Day 2 PCR test and self-isolate until they receive a negative result.
All contacts of suspected Omicron cases must self-isolate for ten days, regardless of their vaccination status.
Stay safe
To protect yourself and others:
Get vaccinated and take up your Covid-19 booster jab when offered
Social distance in crowded places
Self-isolate when instructed to do so
Test regularly
Let fresh air in if you meet indoors
Meeting outdoors is safer.
For more information on the government announcement please read more here.
---
Book your COVID-19 vaccination online
Don't risk remaining unprotected from COVID-19. Everyone over 16 is now eligible to book their first or second dose of a COVID-19 vaccination appointment by:
All children aged 12 to 15 are also being offered a first dose of a COVID-19 vaccine.
The COVID-19 booster vaccine is also available for people aged 18 and over, who have had a second dose of a vaccine at least six months ago.